The All New Fujitsu e3 Heat Pump Range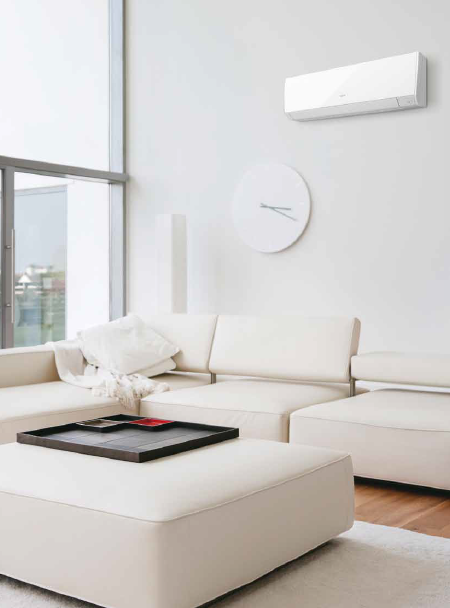 New for 2014, the Fujitsu e3 Heat Pump Range has arrived!
Just when you though Heat Pumps couldn't get any more efficient, Fujitsu has done it again!
The Fujitsu e3 Heat Pump Range uses a completely new thermodynamic system to heat or cool your home or office space.   Boasting the new R32 refrigerant, the e3 series will deliver more heating and cooling  for your money than ever before.  Better still, they offer a significant environmental improvement on previous heat pump systems with zero ozone depletion as well as reduced GWP (global warming potential).
 Fujitsu e3 Heat Pump Series Brochure

The heat exchange efficiency has got even better!  The Fujitsu e3 Heat Pump Series features the all new high density heat exchange coil.  The coil volume has increased by 35% over the previous models.
And like the Nocria, the Fujitsu e3 Series has a power diffuser.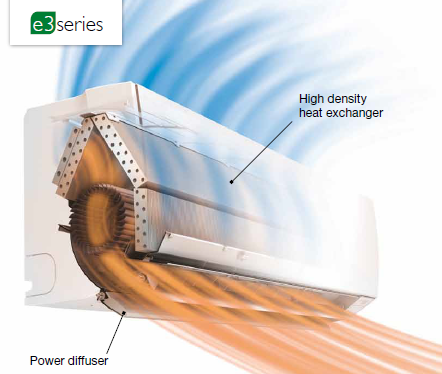 During Heating Mode – The vertical air flow provides comfortable floor level heating.  It does so quickly and effectively.
During Cooling Mode – A long air throw is delivered by horizontal air flow.  This allows the room to quickly reach your set temperature, in every corner of the room.
The power diffuser operates automatically depending on your mode settings.  This results in faster comfort, more efficiently.
Like the Premier Plus, the e3 Heat Pumps feature the Human Sensor and 7 day timer.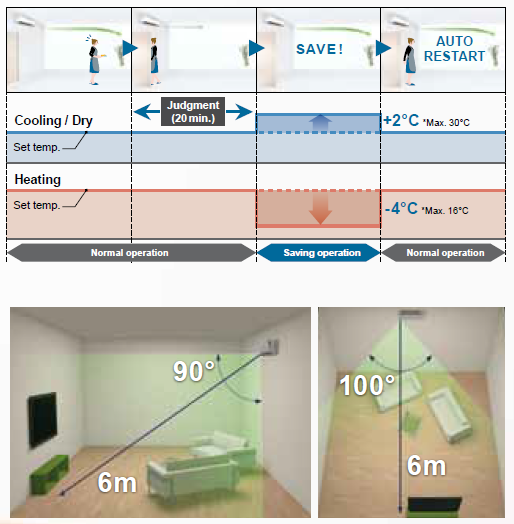 The Human sensors IR tecnologydoes not just sense motion, but senses human presence in the room.  If you leave the room, the unit will switch to an energy saving mode after twenty minutes.  This will adjust the temperature slightly(maximum of 4 degrees in heating mode) When someone enters the room again the Fujitsu e3 Heat Pump will return to the original settings.
Humans are detected in the space by the pyroelectric IR sensor.  The range is six metres between 90 degrees vertically and 100 degrees horizontally.
The on/off timer can be set up to 4 times a day/28 times a week.  For example two programs at waking up and going to sleep can be set.  Set and forget – Once you have the timer all set up, you can forget all about your Fujitsu e3 Heat Pump.

All Fujitsu e3 Heat Pumps are equipped with power saving devices such as…
DC Rotary Compressors
All DC Inverter Control
High Density Heat Exchanger
The All New R32 Thermodynamic System
The ASTG09KMCA has achieved a star rating of 5 for both heating and cooling.  It can offer 4.92kW of heat for every kW of power used.
Want to find out more about Air Conditioning Specialists and what we do?
Heat Pump Smartphone Controller | Ducted Heat Pumps | Free Heat Pumps Quote