The Fujitsu Multi systems have been designed with flexibility in mind. With the introduction of 12 indoor units in a range of capacities and types, Fujitsu have made it easier to cool or heat most domestic applications in New Zealand.
The Fujitsu Multi Heat Pump can heat (or cool) two, three or four rooms using only one outdoor unit. You can choose a different style of indoor unit (hi-wall, floor console, ceiling or bulkhead) for each of the rooms to match each area and your own preferences. The Fujitsu Multi System also gives you individual control in each of the rooms.
 Click Here For the Sales Brochure
 The Fujitsu Multi Split Range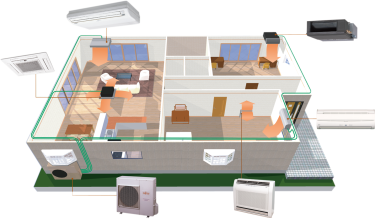 ---
All The Heat You Need

Fujitsu engineering delivers all the heat you need just when you need it. You'll be as warm as toast even when it's freezing cold outside, wherever you live in New Zealand. The reverse cycle uses the same engineering to cool and dehumidify your home environment in summer.

Quietly Does It

Brilliant fan technology, plus "quiet mode" on most Fujitsu models means that noise is not an issue with Fujitsu. Compare our decibel levels (see back of this brochure) and you will see that even our larger heat pumps operating on full capacity are usually quieter than any other brand in New Zealand. Whisper quiet is a Fujitsu fact – not just an advertising claim.

Controller Options

Space-Saving Installation

Multiple indoor units can be connected to 1 outdoor unit rather than having to have multiple outdoor units. This means greater flexibility and space savings, while long pipe run offer versatile installation options.

A Fresher, Healthier Home

Fujitsu's advanced air purifying and deodorising filters on most models absorb minute dust particles, invisible mould spores, pollen and other harmful micro organisms. This will give you a healthier home environment, which is why Fujitsu is recommended by Asthma New Zealand.

The Importance Of Installation

Fujitsu have the only accredited installer scheme in New Zealand. That means when you choose an installer who has achieved Fujitsu Accreditation, you can be assured of a professional installation (plus you will also get a full 6-year parts and labour warranty – New Zealand's longest).

Innovative Technology

High efficiency large fan
Newly designed fans have been used to increase airflow efficiency.

Heat exchanger
A new 3 row heat exchanger has been used which allows for a more compact outdoor unit with higher energy efficiency.

DC fan motor
High performance and high efficiency has been achieved by using a new smaller DC fan motor.

High efficiency DC twin rotary compressor
A high performance, low noise, large capacity DC twin rotary compressor is used.

Economy Operation

By maintaining a slightly higher temperature in cool mode, lower temperature in heat mode and limiting the maximum current draw real energy savings are achieved.

10°C Heat Operation

Operation starts and maintains the room temperature at 10°C when the temperature drops below 10°C.