Heat Pump Repair & Warranty Repair Service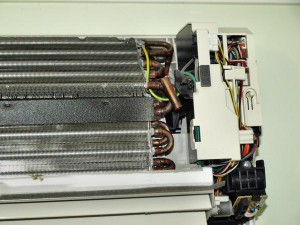 Here at Air Conditioning Specialists we are a one stop shop.  So of course offer a Heat Pump Repair and Warranty Repairs.
Our technical skill and expertise means that if anything should go wrong, we will sort it out and minimise any unit downtime as much as possible.  From commercial Air Conditioning to domestic heat pumps – We have you covered! 
We understand how frustrating it can be not have any heating or cooling when you need it most.  But we do ask you to check a few things out first before you call us.  Quite often we get calls from customers for a repair, only to find the problem is something very simple and just overlooked by the customer.
Before you call us, please read through the following common problems.
Does the indoor unit 'beep' when a button on  the remote is pressed? – Please replace the batteries in the remote controller.  If it still doesn't operate try the emergency operation switch on the indoor unit.
Does your unit run but doesn't heat or cool effectively? – Please check the filters have been cleaned.  Often the filters can so blocked up with dust, that air simply can't pass through the filter and deliver the air flow required.
Is the remote set on the correct mode? – Please check that the set temperature is correct for mode setting.  For example – If you set the unit to heating and the temp set point to 18 degrees, the heat pump is unlikely to run.  Also on some models that use small symbols for mode identification(normally a sun for heating and a snowflake for cooling) these can quite often be confused with each other.
Are there any lights flashing on the indoor unit or wall controller? – If the system has logged a fault, it will show up on the indoor unit by way of flashing operation and timer lights.  Please count the number of times each light flashes and record them.  Then isolate power to the unit for five minutes – this will reset the system.
If after the reset the lights still flash please record which lights are flashing and the number of times they flash.  This information will help speed up diagnosis of the fault before we arrive to take a look.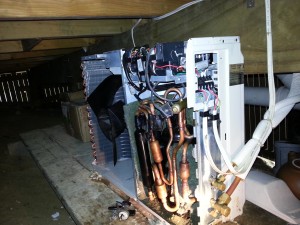 We offer heat pump repairs to all major brands of heat pumps – even if it wasn't installed by us.  However if your heat pump was not installed by us, you are still best to first go back to your original heat pump installation company.  Heat pumps are very reliable.  So if the problem isn't due to user error sometimes it can be an installation fault.  If a fault occurs that is due to the installation it should be put right by the original heat pump installation company.
We have many years experience with heat pumps repairs.  Our servicemen can quickly identify the problem and make the necessary Air Conditioner and heat pump repairs at an affordable price.
Please note if your problem does not turn out to be a fault of the unit, or does not or fit within the manufacturers warranty guidelines, standard call out charges will apply.  Please give us a call or fill out the contact form to the right to get in touch with regarding your heat pump repair.
Want to find out more about Air Conditioning Specialists and what we do?
Servicing your Heat Pump | Air Con Blog | Free Air Con Quote