Our Fujitsu ducted heat pumps are the ultimate in total comfort.  They are able to create a perfect even temperature throughout your home at the touch of a button. They enhance your home lifestyle and because the indoor unit is totally concealed, usually within a ceiling void.  Ducted heat pumps deliver heating and cooling that's a beautiful experience, and yet virtually invisible.
We also have a tailored system to meet your bedroom requirements – the Sleep Pump®. Whichever system you choose, the luxury of Fujitsu's ducted heat pumps adds a new level of comfort to your lifestyle, as well as adding value to your home.
 Click Here For the Sales Brochure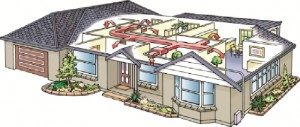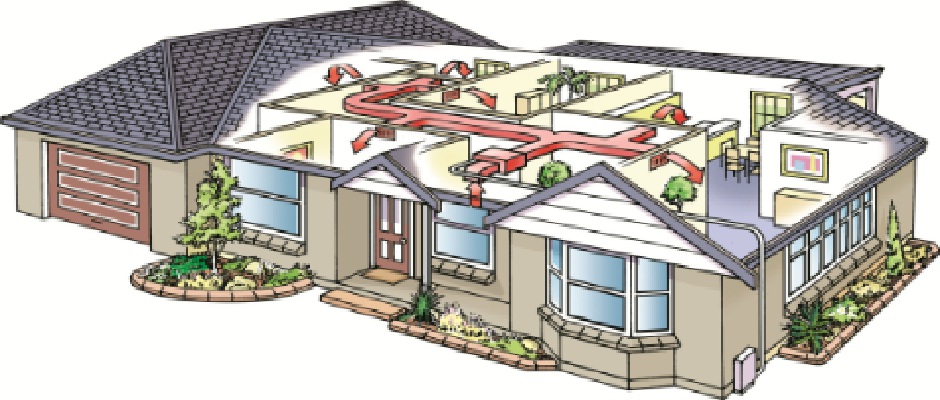 Professional Ducted Heat Pump Installer
Installation of a ducted heat pump system in your home needs an experienced specialist to ensure years of trouble free, effective and discreet comfort.
The companies who offer this specialist skill can be identified by the ducted logo.
These installers have attended training in airflow and ductwork, and have access to Fujitsu's Ductcalc program, which assists in the selection and application of a ducted system to provide the best possible comfort and efficiency for your unique home.
---
Controller Features

Simple and Easy to Control

The controller allows you to set your desired temperature, choose energy saving and other modes, and set timers for the system to start and stop automatically at the times you choose.

The Wall Controller has been designed to make operation and timer setting easy.

The left side of the controller and LCD display is for setting up timer options, the right side is how to set the ducted system to operate.

The handy green LED above the Start/Stop button clearly indicates that the system is On (when the LED is lit) or Off (when the LED is not lit).

Program Timer Options

Once the clock has been set up on the controller it is then possible to set up selectable timer program options.

 ON Timer – This is a countdown timer to turn the heat pump on when the time has elapsed.
 OFF Timer – This is a countdown timer to turn the heat pump off when the time has elapsed.
 Weekly Timer – A simple 5 step process which allows easy set up for each day of the week, with the ability to select 2 on and off settings per day.
 Temperature Set-Back Timer – Used in conjunction with other timer settings, this allows for the temperature to be changed during the On time period.

Optional Controllers

Room Temperature Sensor Selection

 Remote controller has remote sensor included
 User can select between remote controller sensor and / or return sensor (option).

Dual Remote Controller

A second controller can make it easier to operate the ducted system from two different locations in your home. The second controller provides all the operation functions of the main controller except for timer settings.

Additional Features and Benefits

Latest Technology

Fujitsu ducted heat pump systems deliver super-quiet, effective and very efficient heating and cooling to your whole home. Latest inverter technology and advanced rotary compressors deliver optimum performance while maintaining very high efficiency, so you will enjoy the luxury of a completely comfortable home all year round.

Economy Operation

Limits the maximum operation current, cutting power consumption and suppressing the maximum load.

Auto Restart and Memory Back-Up

In the event of a power failure all Fujitsu Inverter ducted models will restart themselves from the last settings of the wall controller. The programmes and timer settings are kept in memory. (This needs to be set up on the wall controller by the installer).

Child Lock Function

Simply pressing a sequence of buttons on the wired remote controller locks and unlocks the keypad, stopping accidental and unauthorised use.

Group Control (typical of commercial applications)

One remote control can regulate up to 16 heat pumps. All of the heat pumps will be operated with the same settings.

Examples of Concealed Ducted Heat Pump Installation

Ducted heat pumps are surely the ultimate in comfort. Placement of furniture is not a problem with a ducted system as the indoor unit is typically installed in the ceiling void and discreet ceiling diffusers deliver cool or warm air throughout your home quietly and efficiently. The return air grille contains a washable filter that filters the circulated air passing through it which means that not only is your room perfect temperature, but dust and dirt particles are removed.