Compare Heat Pumps – With Heat Pumps becoming more and more popular every year in Auckland, and being made available through the chain retail stores.  Its hard to know what the real facts are and what is just marketing and sales babble.
Compare Heat Pumps……Not all Heat Pumps are created equal!
One of the most common questions we get asked every day is "Which brand of heat pump is the best?"  The answer is simple…….Fujitsu.
With more than double the Energy Star Qualified Heat Pumps of any other heat pump manufacturer, Fujitsu constantly leads the way in efficiency, technology and the latest innovations.  It is also the only brand endorsed by the New Zealand Asthma Association.
On top of all this they offer New Zealand's longest Heat Pump warranty – Giving you a total of 6 years parts and labour warranty.
 Fujitsu heat pumps are quieter when working!
Many heat pump manufacturers claim that their product is very quiet.  Any heat pump will have lower noise at lower airflow levels, but lower airflow means that your heat pump may not deliver the heat needed. Fujitsu's efficient fan design delivers more airflow at lower noise levels than Mitsubishi Electric. So Fujitsu is quieter when actually doing the job of heating the room!  Click the link below to compare heat pumps noise levels.
 Click here to see how Fujitsu Heat Pumps compare to Daikin, Panasonic and Mitsubishi Electric.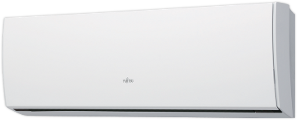 Trying to compare heat pumps but still a little unsure?  No Problem!  Give us a call, email or fill out our contact form and one of our team will contact you.
Want to find out more about Air Conditioning Specialists and what we do?
Heat Pump Info | Air Conditioning Deals | About Us