Introducing the Fujitsu Hi Wall Premier Plus – There are many pluses to this smart new heat pump. Like an award winning compact design, human sensor, healthy air filters, power boost for fast heating (and cooling), increased heating capacity at low temperatures, and a compact quieter outdoor unit – all in one heat pump.
 Click Here For the Sales Brochure
 Fujitsu Hi Wall Premier Plus Heat Pump Range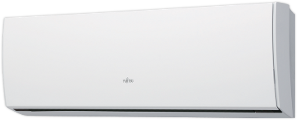 ---
Convenience Plus

Set-and-forget remote controller
This smart, very thin remote has a large easy-to-view LCD display, and a one-touch selection buton. But best of all, it has 3 timer modes, weekly, program and sleep timer. The ON and OFF timer settings can be set up to 4 times in one day, and 28 times in one week. The sleep and program times can be selected with one button push. Once set to your requirements you can forget all about your Fujitsu Hi Wall Premier Plus and enjoy the comfort of your perfect environment.

Example of how you can set the Premier Plus
Wake up to a warm room and come home from work to a warm room.

ENERGY SAVING PLUS

Human sensor control
The human sensor infrared technology senses human presence (and not just movement). So it will switch to saving operation 20 minutes after people leave the room. This will reduce the temperature by maximum 4°C when in heating mode, until someone returns to the room – when the heat pump will then return to the original heat settings.

Human sensor's coverage

Economy operation
Switch to economy operation and you will save even more energy with this already very efficient heat pump. The economy operation will reduce the indoor temperature by 1°C (when heating), and suppress energy consumption.

Design winner
The Fujitsu Hi wall Premier Plus has been awarded the prestigious "IF" International Design award for "Excellent Design in Industrial Products".The winning Fujitsu Heat Pump was chosen from over 4,300 entries from 48 countries, and was awarded because of it's slimness and overall good looks combined with energy-saving performance.

POWERFUL HEATING PERFORMANCE PLUS

Heating that's even quicker, plus high performance at low outside temperatures.

Engergy Saving Plus

Powerful operation mode
The Fujitsu Hi Wall Premier Plus powerful operation is boosted with the maximum full power and strong airflow, which gives you both rapid heating and cooling. Super-fast comfort by pressing just one button.

ADVANCED ENGINEERING PLUS

Indoor unit: quicker heating
Our indoor units are equipped with high-density multi-path heat exchangers to increase the heating (and cooling) efficiency. Quicker heating is achieved by adopting an open panel and large diameter long fan which increases both air intake and outflow.

Outdoor unit: compact and quieter
This compact unit has a DC twin rotary compressor to more effectively utilise the available high capacity. The operating noise is also reduced due to an efficient airflow structure design.

Blue fin protection
The outdoor unit is "cobalt blue" protected against corrosion – to enhance the durability and extend the performance life of the outdoor unit.

Healthy air filtration
The Hi Wall Premier Plus has Polyphenol Catechin air-cleaning filters, which use static electricity to clean fine particles and dust in the air. Many allergens such as pollen and dust mite carcasses are collected and even bacteria is absorbed, providing you with a fresher, healthier environment.
 
10°C HEAT operation
Your heat pump can be set so that the temperature never goes below 10°C, so your room will never get too cold.

Just quietly
Brilliant fan technology means that your Premier Plus is as quiet as it gets. In fact, quieter than a soft whisper.